At Sophie Martin Catering, this festive season we are offering many dishes to impress.
Canapes
Canapes are perfect for inviting friends and family over for Christmas drinks and nibbles.
Just some of our Canapés ideal for Christmas include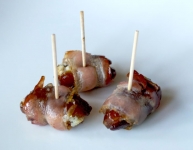 Turkey, Pancetta & Sage Rolls with Cranberry
Mini Yorkshire Puddings with Creme Fraiche, Venison & Redcurrant Sauce
Chorizo Sausage Topped with Goats Cheese & a Tomato and Rosemary Compote
Devils on Horseback Prunes Soaked
in Red Wine & Wrapped in Bacon
Smoked Salmon & Crisp Pancetta Blinis
with Horseradish & Creme Fraiche
Watercress Roulade with Cream Cheese,
Sun-dried Tomato and Shallots
Price does not include staff or crockery hire.
See our Canape menu for our full selection
See our Gallery for more photographs
Christmas Dinner Parties
Whether you want a catered party before Christmas or want a traditional Christmas Dinner prepared for you ready to place in the oven we can offer you a solution to suit.
See our sample winter menu for that pre-Christmas get-together. We can also supply all the trimmings prepared ready for Christmas day, with or without a Turkey.
Winter Dinner Party Specials Menu
Choose one option from each course section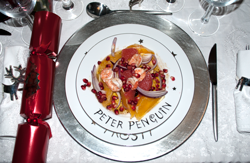 Fennel, Red Onion & Clementine Salad
Beetroot & Apple Soup
Apricot, Shallot, Pine Nut
and Sage-Stuffed Loin of Pork
Salmon en Croute
Sweet Potato & Leek Roulade with Stuffing (v)
Orange & Cranberry Torte
Chocolate Tart with Mulled Pears
Hot Winter Buffet Options
Choose one or more options
Beef in Stout with Parsley & Horseradish Dumplings
Braised Pork with Dried Fruit
Vietnamese Chicken with Sweet Potato Curry
Daube of Beef with Spiced Beetroot
Venison in Beer with Drunken Prunes.
Price does not include staff or crockery hire.
All the Trimmings – Ready to go
Take the stress out of Christmas.
Prepared ready for collection Christmas Eve (or before if required)
with full cooking instructions.
Crunchy Goose Fat Roast Potatoes
Braised Red Cabbage with Apple
Medley of Green Vegetables
Honey Glazed Carrots & Parsnips with Mustard
Brussel Sprouts with Pancetta & Chestnuts
Cranberry Sauce
Creamy Bread Sauce
Homemade Turkey Gravy
Pigs in Blankets
Additional dishes can be ordered on request.
Prepared Traditional Turkey*
Roasted Squash, Sage, Onion & Walnut Tarts*
* Not included in menu price – Quote on request.
Desserts for the Festive Season
Serve 8-10
Raspberry & Limoncello Trifle
Traditional Christmas Pudding
Chocolate Yule Log
9″ Baked White Chocolate Cheesecake
with Sour Cherries Sauce
Tweet