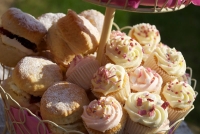 For Afternoon Tea Deliveries, click here
Afternoon teas are a great way to fed lots of guests, they included sweet and savoury options, so guests can pick and choose their favourite spoils, which always leaves even the heartiest eaters full.
We have two options, traditional afternoon tea, which comprises of finger sandwiches and miniature cakes or our full afternoon tea which also includes savoury pastries and wraps. Either option can be served by our staff to tables or from a buffet, alternatively you can have everything delivered in disposable boxes ready to serve.
As well as standard crockery hire, we can also offer vintage t-bone china, which is always guaranteed to complete the afternoon tea experience.
Afternoon tea is a very popular option for weddings and other large celebrations, starting with a champagne & canapé reception and finishing with a barbecue or hog roast for the evening.
Our afternoon tea options aren't just for large parties, we often deliver afternoon tea selections for small gatherings too. We also do an afternoon tea picnic hamper which is perfect for outdoor concerts & events.
At Sophie Martin Catering everything is home-made to order, so if there are any special requests or dietary requirements we can tailor our menus to suit. If you can any queries about our afternoon teas or any other service we offer please contact us.
Tweet